The Beginning
As I finish up my final moments as a Momentum Intern, I took the time to reflect and reminisce about my time here. I gained valuable insights and experience as to what it is like to work for a rewarding and selfless agency. 
January 3, 2022. This was my very first day stepping in as a young professional! I could never forget the feeling of being welcomed (virtually) with open arms by the team. Although my knowledge within nonprofits was not as experienced as I would like it to be, I knew that this internship would maximize my opportunities to become a PR professional. 
A Special Task
One of the tasks an intern is responsible for is to create and manage Momentum's social media platforms. As someone who is passionate about social/digital media, this was beyond an exciting project for me. To make things better, I was told that I had "complete creative freedom" to do whatever I want! 
Admittedly, those three words seemed very daunting and simply just too broad. There was a specific brand for Momentum and there was a brand for me. I wanted to create content that stayed true to Momentum, but had a splash of my personality. I thought what better way to celebrate the new year than to make a bingo relating to PR to engage with the audience!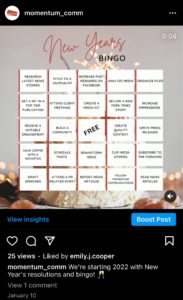 Just like that – my first week went by. I continued to think of new content ideas and strategies that would best work. I wanted to really humanize Momentum and create more content that was relatable and familiar. 
As my work progresses…
I continued to encourage our staff to do an "Instagram Takeover" to interact with our audience and give them a glimpse of what it's like in their shoes. I started the "Momentum Anniversaries" to celebrate our staff's milestones and to commemorate their achievements. These are just a few examples of content creation ideas that can be useful for your next big idea.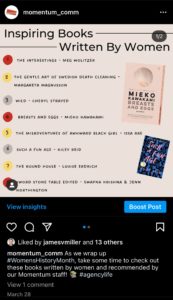 One achievement throughout my internship would be creating a post during Women's History month, where our DEI committee compiled a list of books written by women (by our wonderful staff). I was able to tag some authors to highlight their books and Mieko Kawakami, the author of Breast and Eggs, liked and reshared the post on her own personal account! It was truly a wonderful highlight in my time here. 
The End
Here are some tips and tricks I learned along the way to better optimize my time and experience from this internship. I encourage you all to take that leap of faith and do something that will make a difference in your life. 
I loved my time working here and being able to immerse myself in the culture at Momentum and the work we do for our amazing clients.